Yale locks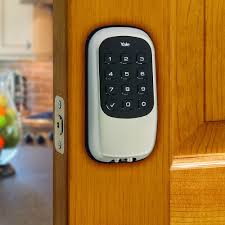 BG Locksmith Yale Locks
Being one of the most popular and oldest international brands that has consistently delivered on excellence and quality, Yale is perceived by most UK locksmiths to be the ideal lock to have on any door.
What is the history of Yale Locks?
Between 1843 and 1857, Linus Yale Sr. applied to the U.S. Patent and Trademark Office for 8 patents concerning his design of a pin tumbler safe lock, vault, bank lock, safe door bolt and padlock. The cylinder pin-tumbler lock which made use of a flat key was patented in 1861. Linus Yale Jr invented a pin-tumbler lock that was very similar, but he's improved on the one invented by Linus Yale Sr.
The Yale brand originally came into being as the Yale Lock Manufacturing Co. in Connecticut. It was founded by Linus Yale, Jr. and Henry R. Towne in 1868.
The company's name was later changed to Yale & Towne and expanded to worldwide operations during the 20th century by partaking in acquisitions and joint ventures with other lock companies. Yale entered the UK market by acquiring long-established lock manufacturer, H&T Vaughan.
British Yale began supplying locks to Rolls-Royce Motors but stopped in 1991 after the two businesses had a disagreement. Over time, Yale's UK operations were gradually sold to other companies such as the Valor Company in 1987, and later on to Williams Holdings. Eventually, all of what was left of Yale's UK operations were outsourced to the Far East. What was left of the British business was later scooped up in the year 2000 by Assa Abloy. In 2012, Assa Abloy began the process of relocating Yale to Berlin, Connecticut from Lenoir City.
In present day, Yale is involved in other operations asides from lock manufacturing. Such as the production of glass break detectors, burglar alarm systems, and fire alarm systems.
What types of Yale Lock designs are available?
The Yale brand is most popular in Worthing for its design of the pin tumbler lock, which most UK locksmiths simply refer to as the "Yale lock". The mechanism of the pin tumbler lock uses pins of various lengths to prevent the insertion of a wrong key from opening the lock. For the lock to open, the plug has to rotate and this won't happen unless the right key is slotted in.
If you'd like a different type of lock, Yale also offers a selection of Smart locks, multipoint locks, mortice locks, padlocks, nightlatches, and much more.
What's the cost of a Yale lock?
The price of a Yale lock is mostly dependent on its design and features. For a Yale lock at a price that's right for you, call us on 270-421-7755.
How secure are Yale Locks?
This leading brand has proven time and time again to be dependable.
Over the years, Yale has improved on its design of the pin tumbler lock to protect the homes and businesses of the millions of people around the world who have come to trust their brand.
To get a reliable lock from Yale or to repair an already installed Yale lock on your place premises, contact us at BG Locksmith in Bowling Green on 270-421-7755.