Master Key System
Keeping Your Business Safe is Our Business Contact (270) 421-7755
At BG Locksmith, we know the importance of keeping your business safe and secure with master key systems. Our local 24/7 locksmith service is here for our fellow business owners in the Bowling Green, KY and surrounding areas. Our fast and friendly staff of bonded, and insured technicians are ready at a moment's notice to deliver quality service for installing or repairing your master key systems.
Our team of expert technicians arrive prepared with up front pricing to find cost-effective solutions for both planned and emergency commercial locksmith needs. We are serving Bowling Green, KY and surrounding areas with our 15 min response time because we want to get to you quickly so you can resume your daily business transactions. With 10+ years of experience, every technician is familiar with all the ins and outs of installing and repairing the master key systems at your store, office building, or other commercial property.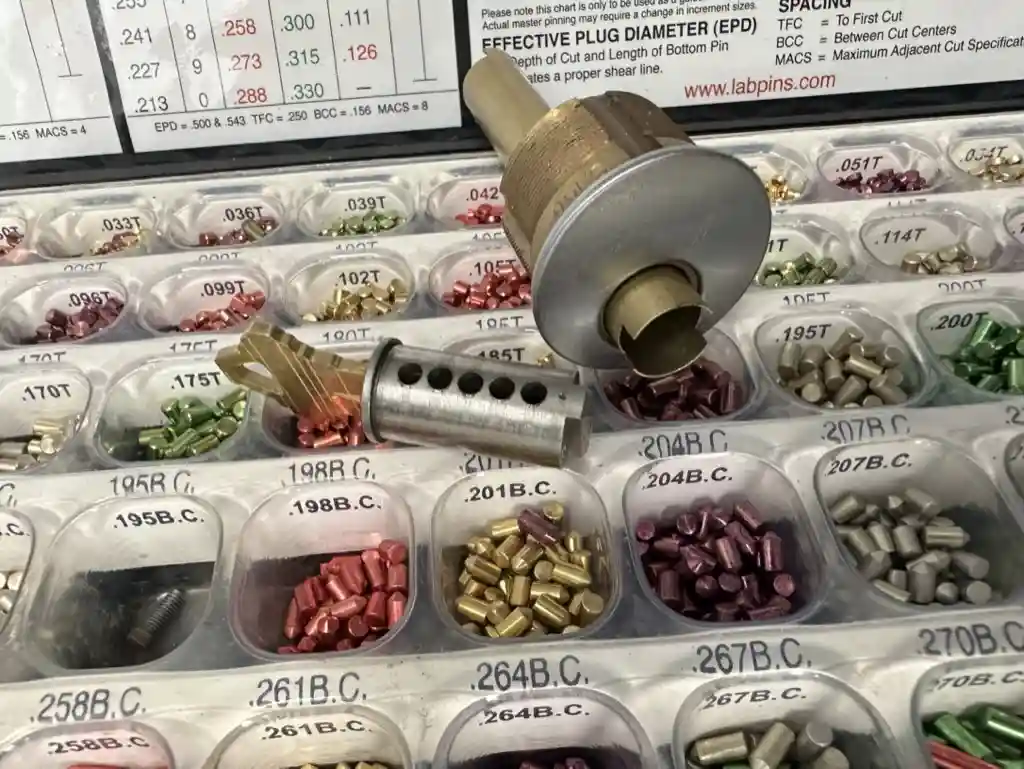 Master Key System Installation
The days of being weighed down with a full key chain are over. This old method was bulky and burdensome and left managers and staff wasting expensive time trying to find the right key. A master key lock system features one key for use with all of the doors in the building, or only the doors you designate. It's up to you because no one knows your business needs better than you do. Master key system can be a superior security solution for many types of businesses. Some of the commercial entities that can benefit from having one master key include:
Apartment Buildings
Hotels
Hospitals
Retail Stores
Administrative Buildings
Storage Facilities
Our fast, friendly, and highly skilled commercial locksmiths are experts in the installation of master key systems in both new and settled buildings. Whether your business has been there for years or you've expanded into new properties, we can install a system that allows for hassle-free access to any or all areas. If you need a system that provides access to all rooms, or one that can be customized to restrict access for some users, we can quickly assess your needs and install a superb system that is specialized to your commercial needs. As a complete locksmith service, we hire techs who have 10+ years of experience so we are familiar with all kinds of master key systems. Security at your place of business is our top priority.
In addition to installing these system, we also provide repair of existing systems. We know how critical it is to maintain a secure workplace. That's why you can count on our mobile locksmiths to come to you for quick repairs when your system has malfunctioned. We pride ourselves on our knowledge of the latest technology and tools to fix a lot of brands and types of master key technologies. But even if your current system isn't the latest, our experienced technicians carry the right equipment to get you back to business. With our guaranteed 30 min response time, we'll be there and make the repairs so you won't miss any business opportunities waiting on us.
When you call BG Locksmith, you can depend on our honest, competent technicians to be there for you. Our licensed, bonded, and insured technicians have years of experience in the field and are ready anytime of the day or night to serve you. We are firm believers that communities thrive when businesses thrive, so we make it our business to keep your business safe. Up front pricing, dependable and honest service, and a friendly smile are just a few of the many advantages of using us for your 24×7 locksmith service needs in Bowling Green, KY and surrounding areas. We are your complete locksmith service. We pride ourselves on providing you with only the best when you call on us to install and repair the master key system that will fit your business' needs. Call us – we'll keep you and your business safe and secure.