Lock Out Service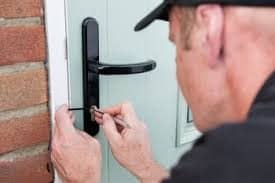 Locked out of your house?
There are many reasons why people find themselves saying, "I am locked out of my house." It's more common than you think, and is one of our most popular services. Causes can include:
Lost, forgotten or stolen keys
Jammed door lock
Keys locked inside the house
Key broken in keyhole
Broken hardware
Whatever the reason, we are here to help, so give BG Locksmith a call and we will have you back inside in no time.
Home Lock out Service in Bowling Green, KY
We provide emergency lock out service for residential customers in Bowling Green, KY, and surrounding areas. Our rapid response ensures the situation is dealt with efficiently and effectively.
What To Do When Locked Out Of The House?
When you are locked out of your house or apartment, the first step is do not panic! It's a tense moment as you realize that you can't gain access, but the worst thing you can do is start to break-in yourself. We do not recommend that to you every try to pick your own lock. Unless you a trained and experienced professional locksmith, then you are fighting a loosing battle. On most occasions, you are likely to do more damage to the locks and the door frame itself. This will end up being much more expensive than the cost of an call to emergency home lock out service. Despite this warning, many people try to solve the problem themselves, either out of desperation, or to try to save money on the cost of professional locksmith. Save yourself the trouble and call BG Locksmith, for a fast and valuable solution.
EMERGENCY HOUSE LOCK OUT SERVICE
BG Locksmith provide unbeatable house lock out service in Bowling Green, KY. If you find yourself locked out of your apartment or house, give our expert technicians a call. They will use specialist tools to unlock, replace, rekey and reinstall locks, without any damage to your property. The solution needed to get you back in your home varies according to the problem, but whatever it takes we can provide services for exterior & interior doors (like the bedroom), garages, windows and more.