Chevrolet key replacement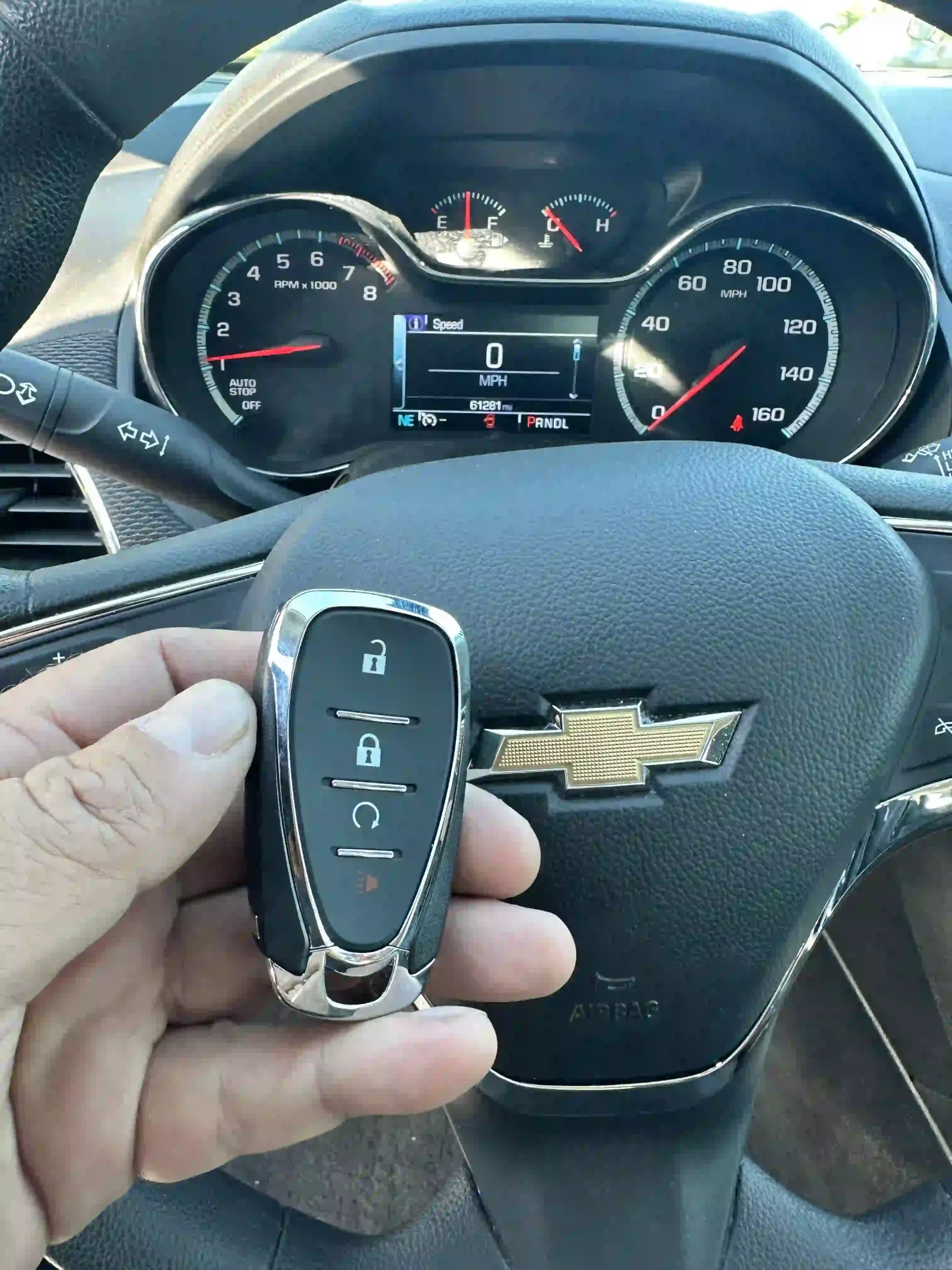 Chevrolet Car Key Replacement
Have you lost the keys to your Chevrolet truck or car? Did someone steal them? Did your only Chevrolet car key break in the lock? Our qualified locksmiths are there to help you. Our team has 10 years of experience replacing keys for all models of Chevrolet vehicles. Contact BG Locksmith today if you need Chevrolet car key replacement. We have right tools necessary to replace all Chevrolet keys, including the newer high-security models.
Chevrolet Ignition Change
The ignition is an important part of your Chevrolet car or truck. If you notice any problems with it, give us a call so that one of our professional auto locksmiths can take a look at it. We can find and repair problems with Chevrolet ignitions for all models and years of vehicles. If your current ignition has a problem that cannot be repaired, we can replace it completely. With BG Locksmith's Chevrolet ignition services, all of your ignition troubles will be gone, giving you the peace of mind that your car will start when you need it to.
Chevrolet Remote Programming
If you want to make sure that your Chevrolet remote will be programmed correctly, let the experts at BG Locksmith do it. Our mobile locksmith specialists have the equipment and know-how to program keys and remotes for your Chevrolet. We can program and repair a variety of original and aftermarket Chevrolet car remotes.
Chevrolet Car Locks & Keys:
We provide 24/7 Chevrolet car locksmith services in Bowling Green KY.
Emergency mobile auto locksmith services are available 24 hour a day.
Chevrolet keys made / remade on custumer site within 15-20 min, cutting car keys on site and programming Chevrolet transponder / chip keys.
We fix, replace and repair Chevrolet keys and remotes, Including Key fob, head remote key and Chevrolet locks cylinders.
Chevrolet Key Replacement
Need Chevrolet Key Replacement? Call Us Now!
24 hour lost Chevrolet key replacement, all models Chevrolet keys made on customer site fast, Chevrolet keys repair and programming Chevrolet chip / transponder keys, cars and trucks.
If your key stopped working in your ignition or you have to jiggle your key several times to get It to start the engine, call us anytime for help, that's a very usual problem, in most cases we are able to fix that problem without replace the ignition switch cylinder.
Services for Chevrolet Models:
Chevy astro van
Chevy avalanche
Chevy beretta corscica
Chevy express van / G vans
Chevy lumina sedan / coupe
Chevy aveo
Chevy arcadia
Chevy blazer
Chevy camaro
Chevy canyon
Chevy colorado
Chevy caprice
Chevy xuv
Chevy cavalier
Chevy corvette
Chevy envoy
Chevy equinox
Chevy hhr
Chevy impala
Chevy malibu
Chevy metro
Chevy monte carlo
Chevy nova
Chevy prizm
Chevy safari van
Chevy savanna
Chevy spectrum
Chevy sprint
Chevy s-10
Chevy silverado
Chevy sierra
Chevy sonoma
Chevy ssr
Chevy suburban
Chevy taho
Chevy yukon
Chevy tracker
Chevy trailblazer
Chevy cobalt
Chevy uplander
Chevy venture
Chevrolet Car Remote Access
We carry Chevrolet car remotes control and head remote keys for all makes and models at affordable prices.
BG Locksmith is there to provide you with quality auto locksmith services all throughout the BG area. Our licensed and certified locksmiths are available for urgent work 24/7. Whether you need your Chevrolet remote programmed, have lost your car keys and need a replacement or are having trouble with your ignition, we can do it all for you.