Car Key Services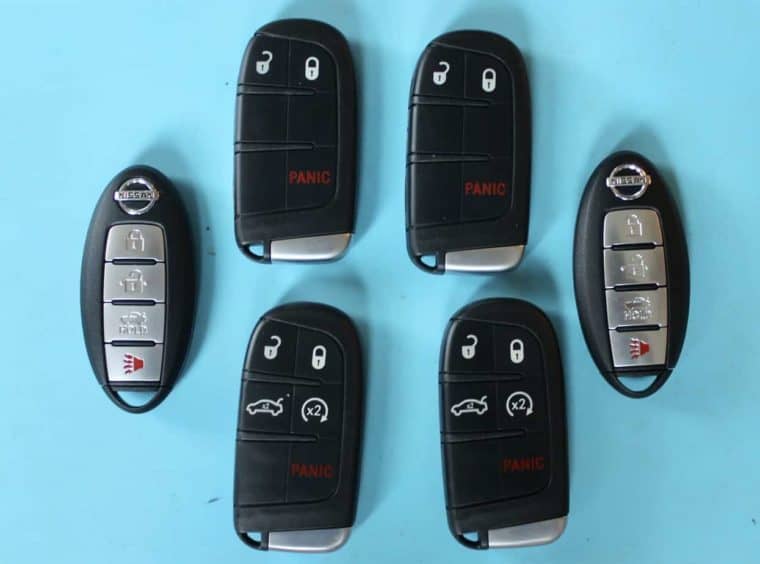 If you live, work or do business in Bowling Green, KY and need to replace the key to your car, truck or SUV, we are the company to call. We can quickly replace the keys to any year, make or model, foreign or domestic automobile. We have well-trained, experienced, technicians and the latest key cutting and duplicating technology. Whether you have an old-fashioned metal key or the latest model transponder key, we can replace it for your and have you on your way in a flash. Losing or damaging the key to your car can be a real nightmare, but we have the tools, staff and expertise to take care of any problem you're having with your car keys.
A SIMPLE SOLUTION FOR CAR KEYS
If your keys are lost or damaged, it can ruin your day. You won't be able to get to work or take care of your responsibilities if you can't get your vehicle to start and that can be extremely frustrating. But we have a simple solution. Just give us a call. We can get to you in a flash and quickly make the replacement key you need to get you on your way. We can replace both simple, basic, metal keys or the new high-tech transponder keys. We not only cut transponder keys, we program them as well. All we need is your vehicle identification number and the year, make and model of your vehicle.
FORGET THE DEALERSHIP FOR KEYS
There is no need for you to visit a dealership simply to get your keys repaired or replaced. They will make you wait all day and charge you an arm and a legs to replace your keys, when we can replace your keys in a matter of minutes and let you get on with your day. Our replacement keys are durable, of the highest quality and will fit and function in your vehicle perfectly. The days when you had to endure the tyranny of the dealership to get quality automotive services are over. We can provide you with a replacement car key that matches the quality of what the dealership offers.
AFFORDABLE REPLACEMENT PRICES
We can beat the price the dealership charges to replace your keys by a mile. Our prices can fit into any budget. Most people are surprised when they hear how affordable it is. If the keys to your automobile have been lost, damaged or stolen and you need them replaced, call us for a price quote to have it done. You will be nicely surprised by how affordable we are. There is no need for you to pay the high prices dealerships charge when our keys are they same quality, but cost a lot less.
BENT OR BROKEN KEYS
If the key to your automobile is bent, broken or worn and no longer functions properly, contact us right away. We can provide you with a replacement you can depend on to open your car door and get your motor started. When keys are worn or damaged, they can fail at any moment and you can be stuck in an unsafe place or in inclement weather. You can either come to us to have a replacement key made or we can come to you and make a key on the spot. Don't take any chances on a key that is about to break, give us a call today and let us replace it right away.
GET A SECOND CAR KEY
If you lose your key, even if you have a spare key, you should get another copy of the key made. If not, you can lose your spare key and end up stranded. We make it easy for you to replace any key. We make the process fast, convenient and affordable. We can send one of our highly trained, experienced, locksmiths in a vehicle that has all the key making technology necessary to replace even the most technologically advanced keys. We can get to you in minutes, quickly make you another and give you the peace of mind of knowing you have a replacement available any time that you need one.
LASER-ETCHED AND WIRELESS CODES
Even if the car key you need replaced is laser-etched or has wireless codes the vehicle must recognize in order for your car to start, we can replace it for you. Our locksmiths have the training, equipment and expertise to replace high-tech keys with the latest built in sensors and security systems. Even if the remote door opener on the key is malfunctioning or broken, we can solve the problem, give you access to your car and get you back on the road. If you no longer have the original key, we can find the necessary codes to make a replacement key that functions as well as the original key.
BROKEN REMOTE CAR KEY OPENING FUNCTION
Should your key be able to open the car door and start the car manually, if the remote door opening function is not working properly, for security reasons you need to repair or replace the key. We can help. A common reason the remote function may stop working is if the battery in the key fob is dead or has gone bad. We can check and, if necessary, replace the battery, identify and repair the problem or make you and entirely new key to ensure your vehicle remains secure. Failure to do so can leave your vehicle vulnerable to car thieves, break-in artists and other criminals and opportunists.
AN ARRAY OF LOCKSMITH SERVICES IN BOWLING GREEN
We offer a wide array of expert BG locksmith services and are available 24 hours a day. Call us if you have a problem with:
Trunk Lockout
Laser Cut Keys
Transponder Keys
Car Key Fob Programing
Keyless remotes
Spare Key Duplication
Car Key Extraction