BMW Remote Control Smart key
BMW Car Key Replacement in Bowling Green KY
Few things in life are more frustrating than losing your BMW car key, and Bowling Green KY locksmith can offer you replacement keys for your BMW. Whether you drive an older or newer model, we will make keys that are perfectly crafted to fit your locks and ignition. We can even produce a spare set to use for backup. We also can also offer you a solution if you accidentally broke a key off inside your ignition or one of your locks. Our mobile equipment allows us to make keys on the spot, and we are available to come to you 24/7 for assistance.
BMW Ignition Change
If your ignition needs to be changed for any reason, a qualified auto locksmith from Bowling Green KY Locksmith can be there to do the job. If your ignition switch is damaged, we can make all the necessary repairs or safely remove it if a replacement if needs to be installed. We will make sure all your ignition's components are in order so that you won't have any trouble starting your vehicle. If you are worried that someone might try to steal your BMW, we will make sure your ignition is repaired or replaced in a way that will make it difficult for unauthorized users to access it. All our technicians have received the proper training and know how to work quickly without making any mistakes.
BMW Remote Programming
Bowling Green KY Locksmith can program your BMW's remote for you so that you won't have to go through the hassle yourself. If your car has a keyless entry option, we can program your remote to lock and unlock your doors with just the push of a button. You can even have us program your smart key or remote key to start your vehicle so that you won't have to inset a key into the ignition. If you ever run into any troubles with your remote in the future, just give us a call and we will be there to solve all your problems. We have a team of mobile locksmith techs on call and ready to arrive at your location and get right to work programming your BMW key.
BMW / 2-Track EWS Remote Head Key / LX8FZV (Chip PCF795 44) (RK-BMW-EWS1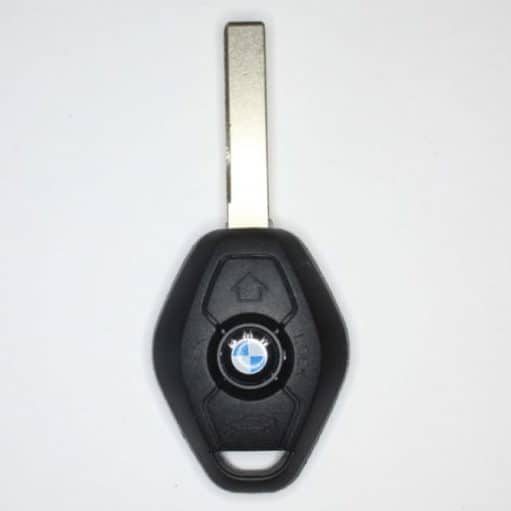 Compatible with the following:
1999 – 2005 BMW 3 Series
1999 – 2005 BMW 5 Series
2004 – 2005 BMW 6 Series
1999 – 2005 BMW 7 Series
1999 – 2005 BMW M3
2000 – 2003 BMW Z8
2000 – 2002 BMW Z3
2000 – 2006 BMW X5
2000 – 2003 BMW M5
2003 – 2009 BMW X3
2002 – 2009 BMW Z4
BMW / 3-Button Remote Head Key / PN: 6955750 / LX8FZV (Chip 46 CAS2) (315 Mhz) (RK-BM-SMOOTH)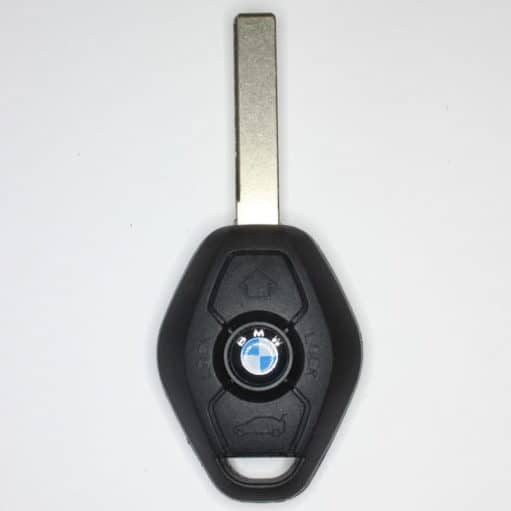 Compatible with the following:
2000 – 2005 BMW 3-Series
2001 – 2006 BMW M3
2004 – 2008 BMW X3
2000 – 2006 BMW X5
2003 – 2008 BMW Z4
BMW 5 6 7 Z3 Series / 3-Button Remote Head Key / LX8FZV / 4 Track EWS (RK-BMW-EWS2) Compatible with the following:
2000 – 2003 BMW 5-Series
2000 – 2003 BMW 6-Series
2000 – 2002 BMW 7-Series
2001 – 2002 BMW Z3-Series
BMW 3 / 5 Series / 3-Button Smart Key / KR55WK49127 KR55WK49123 / CAS3 (315 MHz) (RK-BM-127)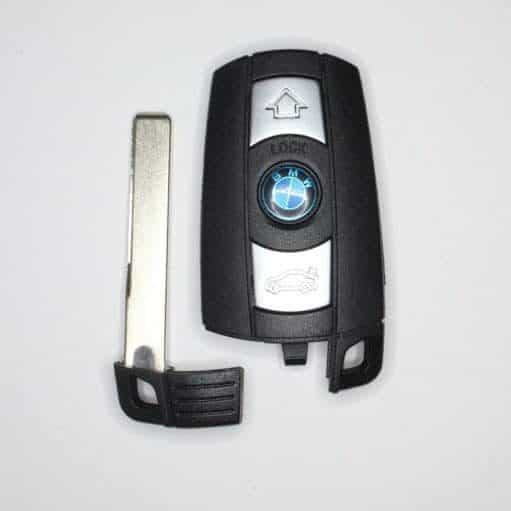 Compatible with the following:
2006 – 2011 BMW CAS 3-Series
2004 – 2011 BMW CAS 5-Series
BMW / 4-Button Flip Key / 2- Track / EWS / LX8FZV / (44 Chip) (RFK-BMW-LX8-44)
Compatible with the following:
2000-2005 BMW 3 Series
2004-2005 BMW 5 Series
2004-2005 BMW 7 Series
1999-2005 BMW M3
2001-2003 BMW Z8
2000-2002 BMW Z3
2000-2006 BMW X5
2000-2003 BMW M5
2003-2009 BMW X3
2003-2009 BMW Z4
2000 – 2002 BMW Z3
2000 – 2006 BMW X5
2000 – 2003 BMW M5
2003 – 2009 BMW X3
2002 – 2009 BMW Z4
BMW 3 / 5 Series / 3-Button Smart Key / PN: 6986583-04 / KR55WK49147 / Comfort Access / CAS3 (RSK-BMW-CAS3KG )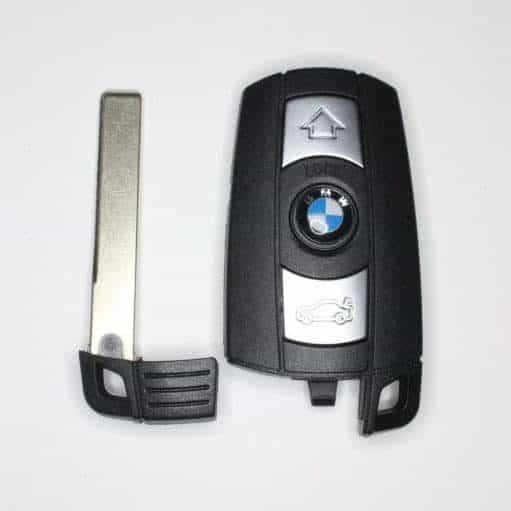 Compatible with the following:
2006 – 2010 BMW 3 Series
2004 – 2010 BMW 5 Series
BMW X5 X6 / 4-Button Smart Key / NBGIDGNG1 / FEM / BDC (433Mhz) (RSK-BMW-FEM-433)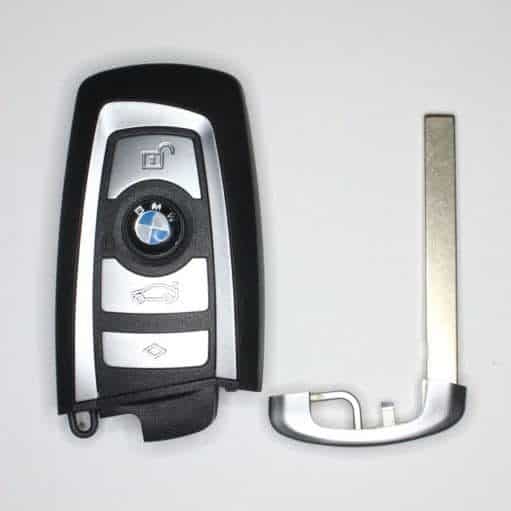 Compatible with the following:
2014 – 2019 Series 3
2014 – 2019 Series 5
2014 – 2019 BMW X5
2014 – 2019 BMW X6
BMW X5 X6 / 4-Button Smart Key / NBGIDGNG1 / FEM / BDC (315 Mhz) (RSK-BMW-FEM-315)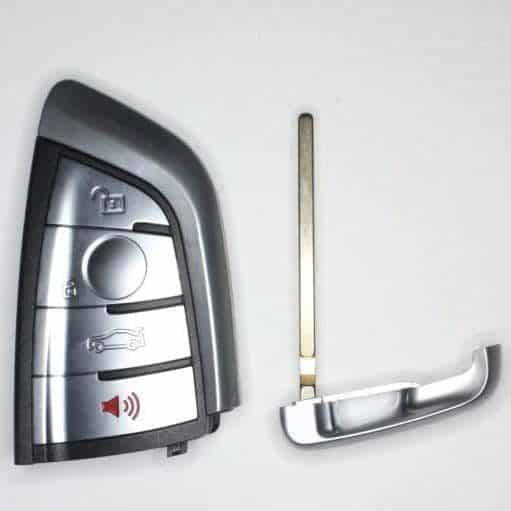 Compatible with the following:
2014 – 2019 Series 3
2014 – 2019 Series 5
2014 – 2019 BMW X5
2014 – 2019 BMW X6
BMW X5 X6 / 4-Button Smart Key / NBGIDGNG1 / FEM / BDC (433Mhz) (RSK-BMW-FEM-433)
Compatible with the following:
2014 – 2019 Series 3
2014 – 2019 Series 5
2014 – 2019 BMW X5
2014 – 2019 BMW X6