Automotive Locksmith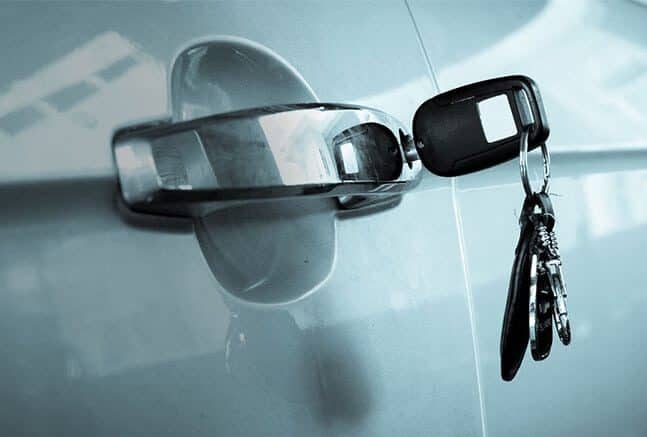 Automotive Locksmith Bowling Green KY
The one area of the field that is constantly changing is the automotive locksmith field; with new vehicles being produced every year comes new keys and security systems. This is why BG Locksmith auto specialists are among the most tested and trained technicians on our staff. By making sure our technicians are able to perform our legendary automotive locksmith services on any vehicle on the road BG Locksmith is able to stand by our satisfaction guarantee. With our mobile locksmith service units filled with the latest high security vehicle keys and the machines to cut and program them our auto specialist can make a key for you vehicle right there on the spot.
Car Lockout Service in Bowling Green, KY
Nothing makes you feel like dumb like looking through your driver side window and seeing your keys locked in car. You can't believe you did something like that, and try as you might, you just can't get to them.
We Are Here For You
No matter what style of vehicle you have, we can guarantee that you won't be locked out for long. We have multiple tools at our disposal to make sure you can easily get back inside. Whether you drive a sedan, a truck, an SUV, or something even bigger, we'll get your door opened faster than with anyone else and give you a professional lock out service in Bowling Green, KY.
You'll never have to worry about being stranded for long. Our automotive locksmith can quickly find you easier than with any other local lock out or locksmith can. We'll force your door open quickly and without damaging the paint or body of your car.
No matter what the situation is, we can handle it easier with more tools and experience at our disposal. Call us and we'll take our pick of tools, including:
Slim Jims
Door Wedges
Long Reachers
Jiggler Door Lock Picks
Pump Wedges
Tension Tools
And more!
How Do They Work?
Slim Jim is the traditional, "old school" way to get inside of your car. The thin metal tool slides in between your window and door to where the locking mechanism is found. From there, it is easily unhitched, popping your door's lock and getting you inside.
Door wedges apply pressure and pry your door open. Although it sounds rough, it easily and safely forces the door to open without damaging the car. All we have to do is stick them between the door and car body and the wedges do the rest! Pump wedges are even easier; the bag is inflated until the door literally pops open, usually just a mere few seconds.
Jigglers can be tricky, but like with a door lock they are used to pick open your car's lock, getting you inside. It takes a little longer, but sometimes it's the best method. Tension tools may be used by themselves, but have the most success when used with Jigglers.
BG automotive locksmith come prepared for any lock out situation to get you back in the driver's seat fast. Lock out service is also considered a roadside assistance service, meaning your insurance may be able to cover our service costs.
Before you decide to walk away in frustration, have us unlock your car. With quick, reliable service, you won't have to feel embarrassed for long. Rather than laugh, we'll be there with all the tools and tricks we need to help you out when you need us most.
24/7 Auto Locksmith
BG Locksmith believes that customer service should always be our top priority which is why we always strive to maintain the lowest possible starting rates for all of our Automotive locksmith services 24 hours a day 7 days a week. We understand how hard our customers work for their money which is why we outline exactly what they can expect to pay for any of our many locksmith services in our Price List. Do not be fooled by other companies who state it will cost twenty dollars for them to make your new key, once they arrive on site the price will quickly jump to over two hundred dollars. We have clearly marked what the price will be and stand by it.
Our automotive locksmith service allows us to have the fastest response time to all calls we receive so when you have lost your keys or locked keys in car our automotive locksmith technicians will be on site within 15 minutes to perform all the work needed to get you back on the road with as little inconvenience as possible. We will arrive on time in our clearly marked mobile service unit, with all the proper identification needed and get right to work, within minutes we will have the full diagnose as to what specific issue you are experiencing will require to become fixed. Each of our technicians will review the work that is going to be performed and break down the prices so all are in agreement before any work is started. No surprises, no gimmicks; just old fashioned customer service hard at work for you. Call 270-421-7755.